Sacred France: In the Footsteps of the Divine Feminine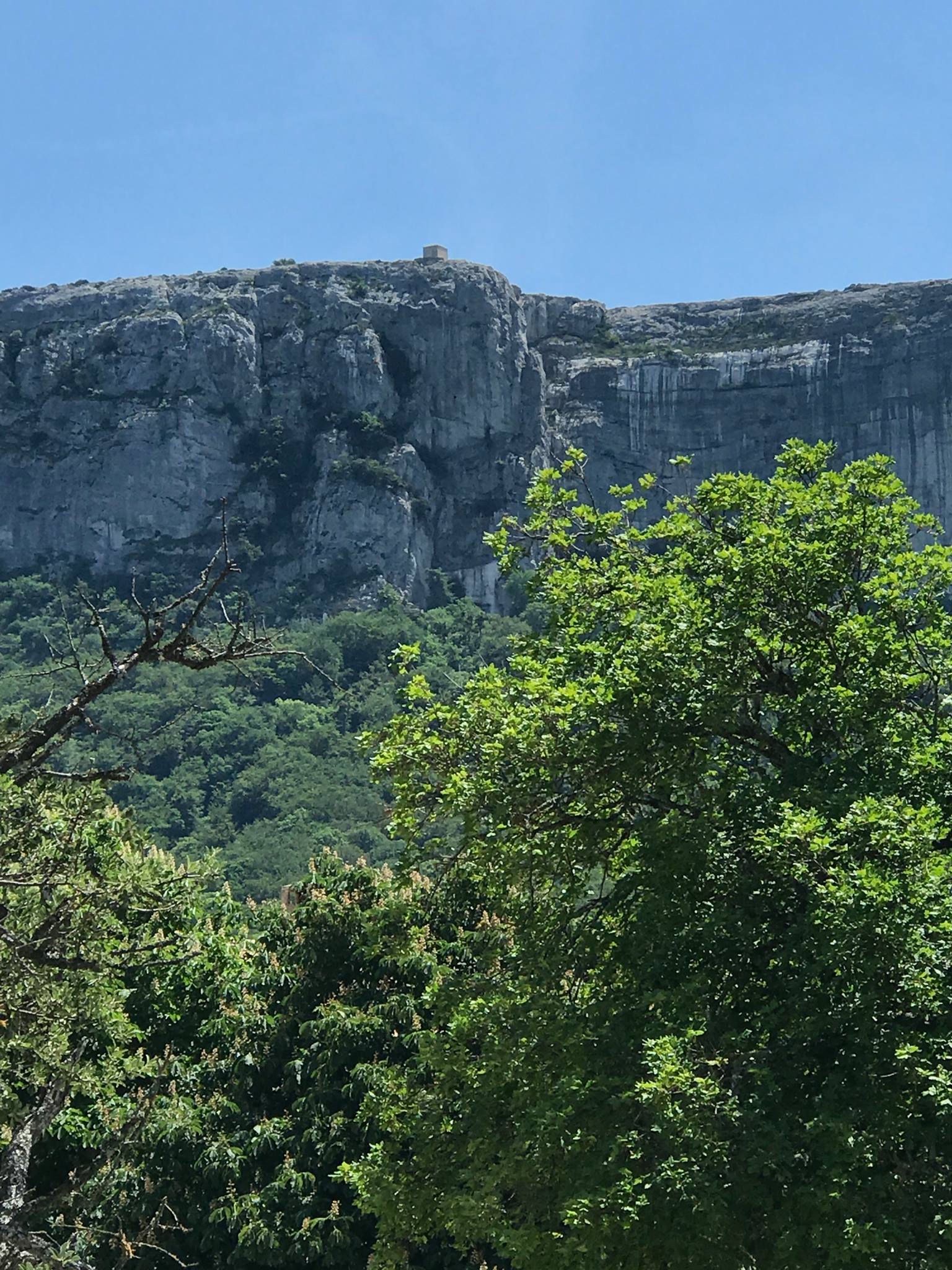 This May, I embarked on a personal pilgrimage, exploring the sacred destinations of France. My selected locations only scratched the surface of what is to be seen, and my experience is only a fraction of adventures that await each and every one in those ancient and sacred lands of the Divine Feminine.
I followed in the footsteps of two female characters that I felt deeply connected to — Saint Joan of Arc and Mary Magdalene — and expanded my journey to include some personal points of interest that I felt guided to. Many of the spots I visited are very isolated, and thus difficult to reach by public transport, so I rented a car in Nice for two weeks, and gradually drove all the way up north to end my trip at Metz/Nancy airport, from where I took a flight back to Nice.
The memories and blessings of this trip will take a while to process, and will certainly stay with me throughout the years. I would like to share some of the highlights briefly, hoping this inspires future travel and exploration for those who feel called to do so.
Saintes Maries de la Mer
According to a legend, Mary Jacoby, sister of the Virgin Mary, and Mary Salomé, mother of the apostles James and John, landed on the coast of Camargue around AD 40, in a boat with no oars and no navigation. Following many Provençal legends, they arrived from Judea to what was then Gaul (both parts of the Roman Empire) together with Mary Magdalene, her brother Lazarus and her sister Martha, and several other Christians.
However, the locals of Saintes Maries de la Mer only celebrate the two Marys, Mary Jacoby and Mary Salome, and their maidservant, Sara the Egyptian, making no mention of Mary Magdalene. This might be simply due to the fact that only the two Marys and Sarah stayed in the town, while the rest of the exiles went their separate ways — and Mary Magdalene went to Marseilles and eventually Sainte Baume.
It is Saint Sara the Egyptian that made the town famous, as she is considered to be the patron saint of the Gypsies, who flock to Saintes Maries in the end of May for their annual pilgrimage, or what some of them in other countries call "the French convention."
Once again, legends abound as to who Saint Sara was, from an Egyptian servant, to a local Gypsy, or even Mary Magdalene's daughter with Jesus. Her statue is one of the many Black Madonnas of the region, and is solemnly carried out into the sea by Gypsies on her feast day of May 25th, in a ceremony vaguely reminiscent of a holy bath in Ganga river.
While there was always some form of local veneration of the saints, in 1448, René d'Anjou, who had a passionate devotion to St Mary Magdalene (and was also a friend, and some say even a lover, of St Joan of Arc — but more on that later) got papal consent to excavate the old 6th century chapel in Saintes Maries. He found pottery with Christian symbols on it and in December 1448, two skeletons, which he declared to be those of Mary Jacobi and Mary Salomé.
Gypsy pilgrimages began the following year, 1449, and have continued ever since, from all over the world. Sara la Kali, or Sara the Black, is inevitably associated with the goddess Kali, the destructive force of the Divine Feminine. Indeed, an image of Kali is to be found in a glass cabinet in the church of Saintes Maries. But the Gypsies themselves vehemently deny any form of Kali-worship, and Kali, in Sanskrit and in Romani, simply means "dark," so there are layers to this archetypal representation of the Dark Goddess.
Arles
Only some 30 minutes drive from Saintes Maries is Arles, an ancient port, and a center of Isis worship in pre-Christian times, through its close link with Alexandria in Egypt. The museum of antiquities in Arles actually has no pointers to the Isis connection, but hosts a remarkably well-preserved boat from around AD 40, used for navigating the river Rhône. For me personally this ship had something of a "Galilee boat" flavor, meaning, imagine that Mary Magdalene could have sailed that!
Sainte Baume
According to a local tradition, Mary Magdalene went from what is now Saintes Maries de la Mer in Camargue to Marseilles, and eventually went inland and settled in the cave of Sainte Baume, where she had spent the last 30 years of her life as an hermit. In a spectacular setting in the mountains, less than two hour drive from Nice, Sainte Baume now hosts a small monastic hotel for pilgrims, a tavern and a souvenir shop, but is as secluded as it probably was 2,000 years ago.
While some of the legends seem an adaptation of the story of St Mary of Egypt (a prostitute who at one point could not enter the church of the Holy Sepulcher in Jerusalem, and ended up spending 30 years in the Judean desert), and we may never know whether Mary Magdalene lived exactly in that very cold and humid cave in the mountains, the Holy Grotto has indeed been a center of Isis worship around the time she arrived.
The way up to the cave takes about 45 minutes — a strenuous, but not impossible, hike through an ancient sacred forest. The pilgrims to the grotto form a motley crowd of New Age explorers, Charismatic Catholics, school groups and local devotees alike, and the general spirit of the place is very loving, introspective, open and inclusive. Everyone is encouraged to spend time in silence as they walk the inner path of their own conversion to Love.
It was actually the relative of Rene d'Anjou, Charles, who, at least according to his own conviction, found the tomb of Mary Magdalene in nearby St Maximin in 1279. Rene himself visited the Grotto as a pilgrim, and even requested papal support to reconstruct some of the local buildings damaged in the fire in the 1440s.
According to the local legend, Mary Magdalene would occasionally be taken up by angels to the top of the mountain, in the rapture of Mystical Union with her Beloved Jesus. This place of Union is commemorated by the chapel of Saint Pilon, a further half-hour climb on a considerably more challenging terrain (I did think a couple of times that this was going to be impossible without angelic intervention).
The views, and the energy on top of the Sainte Baume massif are, however, truly matchless. It lies in the nature of pilgrimage itself, that the hardships of the climb, of the road, of reaching the destination, are symbolic of the process of inner purification. They aid in clearing the mind to receive a blessing and to comprehend the truths that can not be so easily expressed in words, but instead need to be experienced in the whole body-mind-soul.
Among the many colorful characters who visit the place, I met a local who walks up to Sainte Baume every year, for 9 hours one way from his home town in Provence, with a pilgrim's staff. A very well educated man, he has found this short pilgrimage to be the most beneficial for clearing the mind and soul.
Taize
Although essentially bearing no connection to the theme of the journey, Taize was my stopping point on the way up North. It is a tiny village not far from the historic Cluny in Burgundy, home to an ecumenical monastic community famous for its songs. While founded by a Protestant, brother Roger, the community now consists of both Catholic and Protestant brothers, circumnavigating even the delicate issue of Eucharist/Communion (late brother Roger actually received communion from Joseph Ratzinger, later Pope Benedict, a man not known for his liberal outlook, in Saint Peter's Basilica in Rome, at the funeral of John Paul II).
Taize is most known for its outreach to young people, seeking to build bridges and fill in the cracks through which young and searching souls may have fallen otherwise. It attracts many people — young and old alike — who are not religious in the traditional sense, or even any sense at all — and yet they find home in simple meditative songs, silence and the unconditional acceptance that Taize stands for.
The simple church is filled with a couple of thousand visitors every day, who come to join the brothers in their three daily prayers.
Vezelay
Home to the magnificent Romanesque Basilica of Saint Mary Magdalene, Vezelay deserves a whole book, and not just a passing mention in a blog post. Frequented by poets and writers, pilgrims and seekers, the place where Bernard of Clairvaux preached the second crusade, where Richard the Lionheart set off for the third, with a rich Templar and Masonic heritage — this little village is absolutely a treasure that is worth discovering. It is not well (or, really, almost not) served by public transport, but is possible to reach with some advance planning.
The jewel of the crown, the Basilica sits on top of the hill of Vezelay. The present building was dedicated in April 1104. The master builders of the church were perfectly aware of sacred geometry, the arrangement of the planets, the position of the Sun at solstice and equinox, and the water/electromagnetic energy lines underneath the church (the part about water lines seemed like a no-brainer to me, as me and my dad always found places for water wells using dowsing rods, without ever being aware of any esoteric significance). The lines intersect at the location in the crypt where the relics of Mary Magdalene are placed. At noon on the summer solstice, the sun shines down the center of the nave with mathematical precision.
As far as the physical Mary Magdalene is concerned, the remaining relics may actually consist of just a few bones, if any at all. What makes this — and every sacred — place special is the intention and the energy, directed towards it for centuries, and not merely the actual bones and stones.
The most remarkable thing about Vezelay is its unmistakable Templar and Masonic esoteric heritage, which is perhaps less surprising in the bookshops that sell statues of Isis, Ma'at and Hathor — than it is in the church itself. Below is the picture of the monstrance in the shape of Ankh, the ancient Egyptian symbol of life. While Ankh has been adopted as the Coptic cross, the monstrance is used by Catholics to display the body of Christ, the sacrament, for adoration, and is traditionally in the shape of the Sun (symbolizing Christ as the Sun of Righteousness). The lunar, feminine energy of using the Ankh for such a purpose is unparalleled, in my experience.
Domremy
I concluded my travels in Domremy-la-Pucelle, a tiny village in Lorraine with no grocery store, surrounded by sheep pastures, famous for one thing — this is where Joan of Arc grew up.
Joan has been my guide, my inspiration and a helper for the past 30 years. I was 8 years old, growing up in an atheist family, when I first connected with her, inspired to say my first prayer, and she has been around ever since. Visiting Domremy was well beyond my wildest dreams for too long. Again, a remote village in Lorraine, not accessible by public transport — and I only learned to drive last year! But I made it and had encounters that can hardly be described in words.
The village, a cite of an ancient Celtic settlement and the worship of Sacred Feminine,  hosts a home where Joan of Arc had — reportedly — grown up, and a beautiful basilica 2 kilometers away in the fields near the "Fairy tree" where she first received her call. Domremy is actually located on a parallel linking to Chartres, and passing through several Celtic sites, including Sion-Vaudémont, the site of the actual Priory of Sion, whose founder may well have been Rene d'Anjou, the Duke of Lorraine — but that is a whole different story.
My host in Domremy did not share any of the popular beliefs about St Joan, but claimed she was an illegitimate daughter of Isabeau of Bavaria, the Queen of France, married to a mentally ill king (their son was the Dauphin whom Joan helped crown). This would make her considerably older than her alleged age. You can do your own Wikipedia research on Isabeau and her illegitimate children if you are into these things. He also sees her in a Sacred Union with Rene d'Anjou — although never his official wife. He runs his own website (French only) dedicated to St Joan and an alternative version of her story.
French genealogy aside, Joan of Arc has a very special, no-nonsense practical energy about her. A woman who was the Commander-in-Chief of her country's army, she has a very concise message to those of us who were raised to please, agree, or follow the crowd — go! There is ultimately no other option but to follow the still small voice within, no matter how crazy, unsafe or counter-current it seems. Our strength does not come from knowing, calculating, or being able to predict what will happen, but from following our call wholeheartedly.